Welcome to today's edition of The Victory Formation.
Earlier this week, there was a retirement that was announced. It was that of Yao Ming , the Chinese center who played his entire NBA career with the Houston Rockets. Injuries plagued the former number one overall draft pick in 2002 all throughout his tenure, especially on his foot. He's just 30 years old, with a multitude of possible greatness ahead of him, but like Bill Walton, his feet denied him of it.
The frustrating thing about this is, that the Houston Rockets themselves cannot make a statement on this. The decision of Yao to retire had to be coursed through the NBA's offices in New York. Yup, this is a direct result of the NBA lockout. You see, the teams cannot say anything regarding players. In fact, these teams cannot even retweet or mention the players when they do use the social media. The NBA probably would not even give the Rockets a one-off for this, which is a damn shame. But then again, these are some bitter times, and as long as the lockout is on, this is the norm.
However, if you have NBA TV, you must be enjoying the trips down memory lane with all the stuff they're putting up.
On other Motherland news, Hey, it's collegiate basketball time again here at home. My
alma mater
is gearing up for its title defense, and boy, I am so giddy about it. In addition, some guy also complained about this particular billboard that is located near a main thoroughfare, and managed to successfully take it down.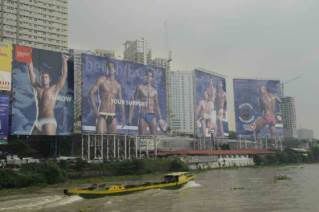 Here is a much closer look.
Here forth are the links after the jump.
Because it was after all, one year ago...
No Rafa, no problem.
Spain
moves forward in the Davis Cup. (c/o 10sBalls)
Yup, there is a team called the
Washington Kastles
. (c/o The Sacramento Press)
Andre Agassi
gets inducted into the Tennis Hall of Fame. (c/o Sportsrageous)
How did Korea nail the
2018 Winter Olympics
? (c/o Yonhap News)
The final Tour de France of
Alexandre Vinokourov
goes crash and burn. (c/o VeloNation)
One sign that
television
is not good for you. (c/o The Guardian)
There is only one
Ricky Hatton
... (c/o East Side Boxing)
Cotto vs Margarito
. This time without the loaded gloves. (c/o BoxingNews24)
The Punisher
ekes out a victory. (c/o The Examiner)
Ferrari mark the 60th anniversary of their debut win
the right way
. (c/o Sportinglife)
Thomas Levet
pulls a Kendrys Morales. (c/o Today's Golfer)
Colin Montgomerie
talked smack about Rory McIlroy (c/o Irish Central). Karma must have
struck
(c/o The Independent).
Steve Stricker
won the same tournament three straight years. Ain't that sweet (c/o Chicago Sun-Times).
Who says
conference shake-ups
are a football / basketball thing? (c/o Boston Herald) Of course, some are
solutions-oriented
... (c/o Western College Hockey)
How do you remember
Armon Gilliam
? (c/o Washington Post)
This game
set Twitter abuzz with madness against Paul Hewitt. (c/o Huffington Post) They did salvage
5th place
, though. (c/o NCAA)
Bruce Pearl
wants another shot. (c/o SLAM Online)
Caleb King
joins Terrelle Pryor as the jewels of the Supplemental Draft. (c/o NFL Mocks) Will Isaiah Crowell save Mark Richt?
Where will
Tate Forcier
go? (c/o CBS Sports)
Here's a novel idea. Offer
cash
back instead of wins. (c/o Forbes)
Buckeyes
trying to appease the NCAA. Will it work? We'll see come August. (c/o Crimson & Cream Machine)
Mike Vrabel
chipping in on the task of reimaging Ohio State. (c/o The Lantern)
Willie Lyles
is one smart person knowing that he can get a school to fork over more money because of the swoosh. (c/o Lost Lettermen)
Nice job description there,
Oregon
. Hope it pays well given what it will entail you. (c/o The Register-Guard)
What should
Mike Modano
do? (c/o Crash the Crease)
Figuring out the
NHL-KHL
MOU for the simpleton. (c/o Puck Daddy)
It's now official.
Ettore Messina
in LA. (c/o Yahoo!)
Deron
likes the challenge Turkey poses. (c/o ProBasketball Talk)
Kobe
in China? Why not? (c/o Hoopsvibe) He'd might be more interested in Los Angeles given that his
dad
is coaching and all... (c/o Los Angeles Times). Oh, and he's coming to the
Motherland
soon. (c/o Nike Philippines)
This
solution
might be too good to be true for both the NBA and the Players Association. (c/o Grantland)
PacMan Jones
acting like PacMan Jones. (c/o Outside the Boxscore)
Should
Pat Tillman
be in the Hall of Fame in Canton? Discuss below. (c/o Gang Green Nation)
Speaking of
Canton
, something new will be there as well. (c/o Cleveland Plain Dealer)
Christian Lopez
is the guy who caught Jeter's 3,000th hit. (c/o Pocono Record)
Will
Mike Trout
be a good catch? (c/o Philadelphia Inquirer)
Could
Bryce Harper
open Nationals Park in 2012? (c/o Sports Illustrated)
Got $150? You can have a
gold ball
. (c/o So Hood)
Bored and nothing to do later? Go
tweet
the baseball All-Stars during the Home Run Derby a.k.a. US (National League) vs the World (American League). (c/o The News-Journal)
I am still jarred by the idea of
a guy
dying trying to catch a ball. (c/o Baseball Nation)
It happened just like that
12 years ago
. (c/o New York Daily News)
Some of the
people
who will be facing Manchester United later this month. (c/o MLS Soccer)
Here are the highlights from the scintillating game in Stuttgart.