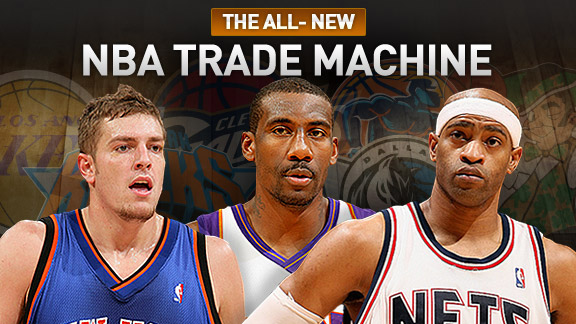 Yes, I am toying with the
ESPN Trade Machine
. I may be delayed with the results, but here are certain combinations I toyed with. And I expect to get rebuttals from people who will say that this deal will not happen, because again, the odds these deals ever happen are slim to none.
1.
Charlotte gets Tayshaun Prince and Chucky Atkins for DJ Augustine, DeSagana Diop and Acie Law IV
. You know Larry Brown needs to get guys he knows to get these 'Cats ready for the stretch run. We know DJ is not really comfy with playing "the right way," so Chucky will serve as the veteran back-up to Ray Felton.
2.
Phoenix gets Tayshaun Prince, Charlie Villanueva and Chris Wilcox for Amare Stoudemire and Earl Clark
. If the Pistons really want to be competitive in the new East, if they can somehow get Amare, they might get a leg up. Earl Clark will be a good fill-in. Imagine what Charlie V can do with the SSOL. Tayshaun may be a better Shaun Marion.
3.
Nuggets get Ben Gordon and Ben Wallace for JR Smith, Malik Allen and Johan Petro
. If the Mavs made their move with Caron, why not the Nuggets with the new Microwave. Big man insurance with Big Ben will help solve bad depth in the frontcourt. Also jettisons their big headache in JR Smith.
4.
Cleveland gets Monta Ellis, Anthony Morrow and CJ Watson for Delonte West, Daniel Gibson and Daniel Green
. If the Cavs really want to lock up the title, A starting five of Mo Will, Monta, Lebron, Jamison and Shaq with a bench of Anthony Parker, Sideshow Bob and JJ Hickson would be good enough.
5.
Detroit gets Al Jefferson, Ryan Gomes and Nathan Jawai for Charlie Villanueva, Jason Maxiell and Kwame Brown
. Al is a 20-10 guy. They can just pull that off. An Al-Stuck-Tayshaun-Rip-Gomes would work.
6. Three-team deal:
Lakers gets Luke Ridnour and Luc Richard Mbah a Moute, Milwaukee gets Luke Walton, Kelenna Azubuike and CJ Watson, Warriors get Sasha Vujacic
. The Lake Show gets a back-up PG in Ridnour and a quality home product in Mbah a Moute. Bucks now turn it over to Brandon Jennings. Who knows what Nellieball can do for the Machine.
7.
New Jersey gets Rodney Stuckey, Charlie Villanueva and Jason Maxiell for Josh Boone, Devin Harris and Yi Jianlian
. End the Stuckey experiment and go with the now with Devin Harris. with the state of Detroit as it is, Yi might be able to get the China factor into play.
8.
Wizards get Tracy McGrady for Gilbert Arenas, Francisco Oberto and Al Thornton.
Houston has been getting by without a stud, so nothing will change with Agent Zero suspended this year, but adding a big in Oberto and another forward insurance with Thornton would help Houston go up in rank.
9.
Miami gets Raja Bell and Anthony Morrow for James Jones and Daequan Cook
. They get a shooter and a veteran and at the same time, both Bell's and Morrow's contracts expire at the end of the season, leaving the Heat with only ONE player locked up for next year (Beasley).
10. Three-team deal.
Lakers gets Kirk Hinrich and Jared Jeffries. Knicks get Adam Morrison, Jerome James and Tyrus Thomas. Bulls gets Sasha Vujacic, Luke Walton and Cuttino Mobley
. More expiring contracts for the Knicks, Bulls get rid of Tyrus (and at the end of the season, Vinny del Negro). and the Lakers probably lock up another ring for Kobe.