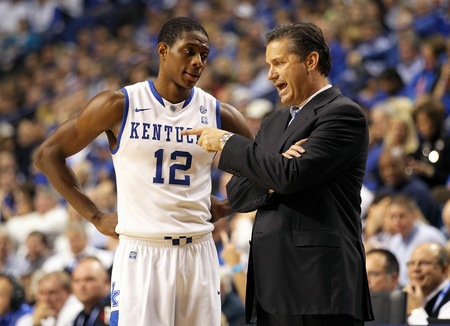 As I was writing this, there was a slight earthquake that struck the Motherland. Reports say it was of 5.7 magnitude. Unfortunately, I did not feel it. I presume we all are tired and exhausted from the bracket monitoring we have been doing.
We learned about the Nantz's Fabricated Five, Pitt's continued bad breaks. John Henson's brain farts. And yes, the BEast possibly being a bit overrated.
I presume we will have further discussion on this soon, so I'll leave it at that.
Hereforth are the links:
England denied a shot of
perfection
. (c/i Irish Independent)
Jon "
Bones
" Jones had a very eventful day. (c/o 5th Round)
Jalen Rose
fires back. (c/o Wall Street Journal). Hope this is the end-all and be all...
Djokovic
is on a roll. (c/o The Sports Campus)
Champions' League semifinal
draw
is set. (c/o The Guardian)
Hopefully, the injury to
Stuart Holden
is not the worst. (c/o The Bolton News) He already has been removed from the list
Clint Dempsey
makes history for American soccer. (c/o Sportsrageous)
Charlie Davies
is finally playing again. (c/o Dirty Tackle)
Chelsea
's title chances have not yet closed. (c/o The First Post)
Bristol
is becoming Kyle's playground. (c/o San Francisco Chronicle)
Fulmer's Cup update: Alabama has
Mark Barron
. (c/o Times Daily)
Brady Hoke
is already beginning his preparations for the upcoming season. (c/o Sify)
Fiesta Bowl
could be in the midst of trouble. (c/o College Football Talk)
With their injury woes well known, Phillies had to sign
Luis Castillo
. (c/o New York Daily News)
The
Bonds trial
is about to begin, and with that, expect Pedro Gomez to report on this often. (c/o San Francisco Examiner)
The Madoff saga knows no end for the
Mets
. (c/o The Biz of Baseball)
Bud talking
Dodgers
, but not much on McCourt. (c/o True Blue LA)
Get well soon,
Steve Sabol
(c/o Fox Sports)
Roger Goodell
trying to sell us fans on the arguments on the current situation. (c/o Silver & Black Pride)
NFLPA
seems unconvinced, though. (c/o New York Daily News)
Jerry Glanville
being defrosted. (c/o ProFootball Talk)
To end, here's something from Jessie J and her performance in SNL.