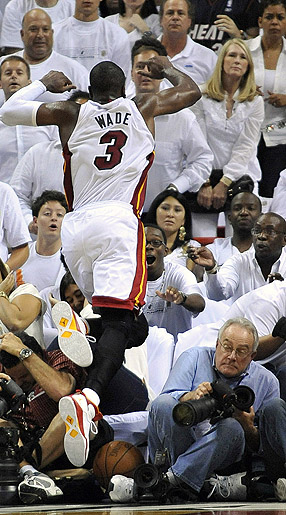 C/o ESPN
From the original 8, there are now just four teams left in the East. Congratulations are in order for Chicago, Miami, Boston and Atlanta. Happy trails to Orlando, New York, Philadelphia and Indiana. Let's see how the teams and match-ups fare for this round:
1 - Chicago vs 5 - Atlanta
Regular Season Matchup
: Chicago won with 2-1 edge. All 3 games were in a span of 3 weeks in the month of March, so they already had Kirk Hinrich in tow. Josh Smith did not play in the first meeting, which was the only one that the Hawks won and was the only close game. The other two meetings were major Chi-town blowouts. Speaking of which, the second game (and first blowout) did not feature Carlos Boozer.
Keys for the Bulls
: Derrick Rose went nova on the Hawks, scoring 34 and 30 in their final two meetings. Considering Kirk Hinrich is nursing a
strained hamstring
, the mismatch got even bigger. In both of their blowouts, they had a huge edge in rebounds, taking advantage of their athletic bigs. There is a slight concern with the ankle, though. Luol Deng has been playing well, but he is mainly benefiting from the presence of Rose and what he does as well as the attention to Boozer.
Keys for the Hawks
: They pretty much frustrated Orlando in such a way that it absolutely was putrid to watch their games. Yes, it was really that difficult to watch how ugly this series got offensively. They might have to do the same thing to the probable MVP Derrick Rose. Larry Drew must realize that they don't have much depth, so they'll have to keep things close and not allow Chicago to pull away. As such, he must also figure out a way to minimize the Iso-J**** (Joe, Josh, Jamal) situations a.k.a. Clogged Toilet offense that stops ball flow. Atlanta needs to be efficient with their offense knowing their limitations.
X-Factor/s
: Jamal Crawford will be absorbing most of Kirk's minutes, while Jeff Teague will be a nominal starter just like Jason Collins. Hawks cannot afford to have bad nights, so Crawford needs to get buckets. Bulls need better numbers from Carlos Boozer, who struggled mightily in the last playoff series.
Prediction
: Bulls in 5.
2 - Miami vs 3 - Boston
Regular Season Matchup
: Boston won with a 3-1 edge, winning the first three. It is important to note that all three wins by Boston came before the Kendrick Perkins trade. The first two games also featured Udonis Haslem for Miami, who then got hurt. Also playing in two games were the O'Neals. Shaq played in the first two, Jermaine played in the first and the last. Delonte West only played in their final meeting. The three Boston wins were close to an extent, but the Miami win was a huge blowout.
Keys for the Heat
: The supporting cast. Sure, they probably have the best collection of young studs, but they can only get you so far. Will Mike Bibby, Mike Miller and James Jones be enabled to shoot? Can their collection of bigs get the job done down low, or in Z's case, make the 15 foot jumper?
Keys for the Celtics
: The supporting cast. All three wins in their regular season faceoff also had a role player making a major contribution, from Glen Davis to Nate Robinson to even Von Wafer. They'll need that because it will entail a massive effort from Paul Pierce to have to deal with limiting Lebron James. Oh, and Rondo needs to get off his funk. Sure, he eviscerated the Knicks at Madison Square Garden the past game or two, but his form has been off in general compared to how he got serious MVP votes
X-Factor/s
: Shaq did not play in the first round against the Knicks. He did not play in Game 1, but he
did travel
to Miami. As they traded away Kendrick Perkins, it is a must that Shaq plays. On the other hand, Joel Anthony has been the solid defensive presence to complement Chris Bosh, something sorely missing due to Udonis Haslem's injury. Can he keep that up? We'll see.
Prediction
: Celtics in 6.