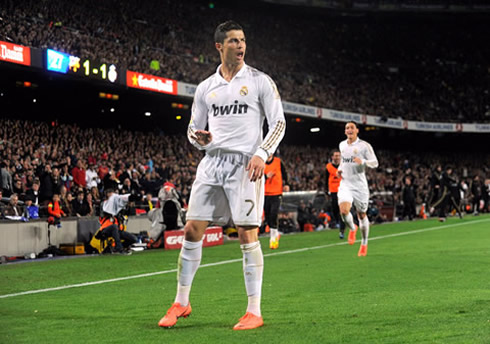 The weekend for me was pretty much dictated by this football match. A match between two titans, not just in Spain, but in the world. Even if it took place at 2 in the morning here in the Motherland, these kind of things are must-watch stuff, if you could do so, you must.
The Catalans have dominated this match-up the past few years, especially at the Nou Camp. So to see this
victory
(as deconstructed
here
) is really awesome and sweet. Now with four matches remaining, all the current La Liga leaders need are two wins and they secure the title.
HalaMadrid!
Here forth are the links after the jump.
Denny takes it home in
Kansas
. (c/o Racin Today)
Even
NASCAR
guys are part of the First SportsMan's tour, too. (c/o Paddock Talk)
The Red Bulls take this
one
, but not this
one
. (c/o Al-Jazeera and Washington Post's Soccer Insider)
The Bahrain GP will always be
around
, I guess, in spite of the tense atmosphere surrounding it. (c/o Northampton Chronicle & Echo)
34 individuals for 33
slots
? (c/o WRTV 6)
So, what ails
Tiger
, from Butch's view? (c/o The Golf Blog)
Small step to finally getting it,
Rafa
over Nole? (c/o The Daily Telegraph)
No clay for
Kim
. (c/o Tennis Grandstand)
Floyd Mayweather
always got something to say. (c/o The Sweet Science)
Bones got this one, for
sure
. (c/o Sports Illustrated)
Rugby from the Motherland getting a huge
boost
. Truly awesome stuff. (c/o Rappler)
Borussia Dortmund, the
Kaiser
of the Bundesliga. (c/o Globe and Mail)
This
is the
ultras
mentality. Passion is high. Sometimes, too high that they lose control of themselves. (c/o Yahoo!'s Dirty Tackle)
Latest on
Fabrice Muamba
. (c/o Huffington Post UK)
The chase may still be alive in England, as the
red side
stalls and the
blue side
takes advantage. (c/o The Guardian and Belfast Telegraph)
Here's the customary nice piece from
Grantland
. (c/o Grantland)
This
guy
might be as good with what he does as Miz is with his spreadsheets. (c/o Courtvision)
Relegation is
tough
, but they have to face it. (c/o Here In The City)
Uthoff gets freed.
Sort of
. Kudos to a more observant
society
. (c/o Ology and The Sportingnews)
What
the Paterno family is going to get from Penn State. This, however, still has legs. (c/o Allentown Morning Call)
To quote Dolph Ziggler, I am
Perfection
. (c/o Seattle Post-Intelligencer)
Here are highlights from
El Clasico
.