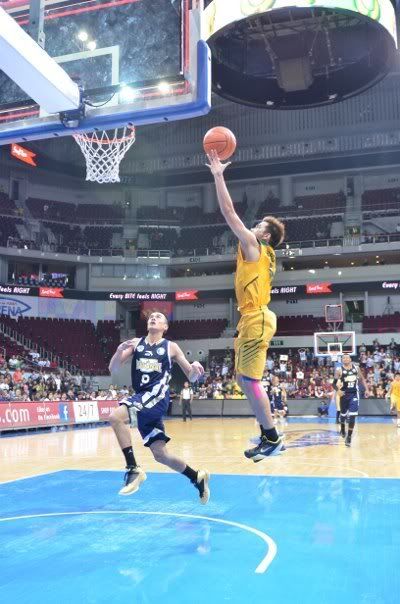 Credit to whoever took this photo.
There is more drama in the UAAP, thanks to this sequence.
The ruling on the field is that the shot counted. A few days later...
"Because of the pieces of evidences/statements/video used in the deliberation were inconclusive and unclear and most of the points brought up showed that time had expired before the ball was fully released, the UAAP Board unanimously upheld the appeal of NU for a replay of the game that is scheduled on Sept. 23, 2012" - Henry Atayde (DLSU), Member of the UAAP Technical Committee
NU's Junel Baculi, a member of the technical committee, inhibited himself from the meeting, for obvious reasons.
Here is the video again, to refresh yourself.
To put things in perspective: Nothing has changed. NU still has the tougher close-out schedule. They still have La Salle and Ateneo on tap (on consecutive playdates to boot), with a UP team that wants to give its 8 graduating players a winning send-off. Now tack on that FEU game. From the looks of things, a 9-5 record might be the win-loss standing being toted by the 4th place team, whoever that will be.
I said that the NU appeal has merit, but I have questions with regards to the decision on replaying the whole game. Ideally, they should have both teams play the OT on either of the two playdates that have both teams on it: September 13 or 16.
Then again, this would have been avoided had RR passed it quickly to a wide-open Anthony Hargrove on that helter-skelter sequence.