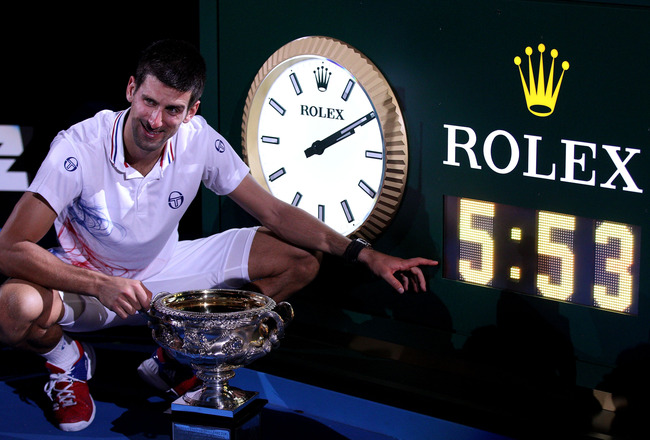 Welcome to The Victory Formation.
Whilst most of you were asleep when the 2012 Australian Open Final took place, the most fascinating of a final happened. 5 hours and 53 minutes of serves, strokes, grunts, shouts between Novak Djokovic and Rafael Nadal. The top two players in the world in a showdown that enthralled all who watched.
I was actually on the road when the conclusion happened, but was kept updated on Twitter, because everyone else on my timeline was talking about it. Still, it was almost 6 hours of competitive tennis. That is incredible. Can't doubt their endurance and skill.
Here forth are the links after the jump:
Now we don't have to hear about Woz's current
inability
to win being the top female tennis player in the world. (c/o Daily Mail)
The Quest for 12 has been
postponed
. (c/o BBC Sport).
So, was that match the best final
ever
? (c/o Herald Sun)
Wait, there was a
Pro Bowl
? (c/o Los Angeles Times)
There's the NHL All-Star Game,
too
. (c/o The Chronicle Herald)
These players have mad
skillz
. (c/o Fighting for Stanley)
Media taking off from what
Tim Thomas
did. (c/o Boston Herald)
The All-Star Game in
Columbus
next year! (c/o The Lantern)
What's happenin' with
Sidney
? (c/o Montreal Gazette)
At least
this match
was longer than the last one. (c/o Yahoo!'s MMA Cage-writer)
So, there is promise with watching
futbol
in the United States. (c/o EPL Talk)
Lying just to get people to
like
you more is pure bad PR, folks. (c/o Deutche-Welle)
Landon > Clint in
FA Cup
. (c/o Toffeeweb)
In a matter of days, Liverpool dispatched
Manchester City
in one cup competition and
Manchester United
in another cup competition. Satisfaction, guaranteed. (c/o Yorkshire Post & London Telegraph)
Can the
FA Cup
become their version of the Super Bowl? (c/o San Francisco Chronicle)
Bad blood
continues between two London clubs. (c/o The Daily Mail)
Tiger
ran into a Rock in Abu Dhabi. (c/o Chicago Tribune)
Guy needs a
break
. Hope he is healthy next year. (c/o Charleston Post & Courier)
Lebron
bikes
to work and jumps over
people
. (c/o CBS Sports & Pippen Ain't Easy)
Here is something to sing at 5'o clock in the morning.