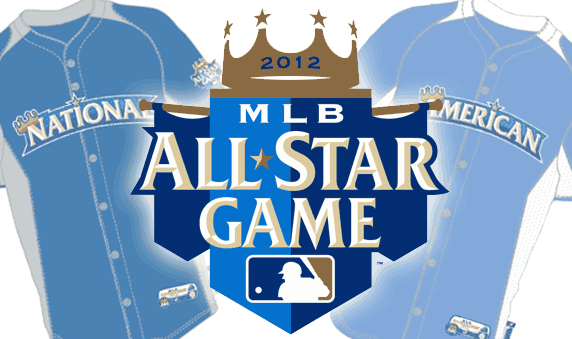 The rosters of the MLB All-Star Game at Kansas City have been revealed, so we know how the fans went out and voted. Of course, that includes yours truly.
The Starters (AL / NL):
Catcher
- Mike Napoli / Buster Posey
1st Baseman
- Prince Fielder / Joey Votto
2nd Baseman
- Robinson Cano / Dan Uggla
3rd Baseman
- Adrian Beltre / Pablo Sandoval
Shortstop
- Derek Jeter / Rafael Furcal
Outfielders
- Josh Hamilton, Curtis Granderson and Jose Bautista / Melky Cabrera, Carlos Beltran and Matt Kemp
Designated Hitter
- David Ortiz / no DH in NL
Pitchers and reserve players are selected by a combination of players, managers and coaches, with inputs from the All-Star Game managers in Ron Washington and Tony LaRussa in conjunction with MLB. Of course, all 30 teams have to be represented in this spectacle.
Here are the pitchers:
AL
: Ryan Cook, Matt Harrison, Felix Hernandez, Jim Johnson, Joe Nathan, Chris Perez, David Price, Fernando Rodney, CC Sabbathia, Chris Sale, Justin Verlander, Jered Weaver, C.J. Wilson
NL
: Matt Cain, Aroldis Chapman, R.A. Dickey, Gio Gonzalez, Cole Hamels, Joel Hanrahan, Clayton Kershaw, Craig Kimbrel, Lance Lynn, Wade Miley, Jonathan Papelbon, Stephen Strasburg, Huston Street
And the reserves:
AL
: Joe Mauer, Matt Wieters, Elvis Andrus, Asdrubal Cabrera, Miguel Cabrera, Ian Kinsler, Paul Konerko, Adam Jones, Mike Trout, Mark Trumbo, Billy Butler, Adam Dunn
NL
: Yadier Molina, Carlos Ruiz, Bryan LaHair, Jose Altuve, Starlin Castro, Ian Desmond, David Wright, Ryan Braun, Jay Bruce, Carlos Gonzalez, Andrew McCutchen, Giancarlo Stanton
Of course, lineups are fluid, due to injuries and those weird rules involving pitchers.
Lastly, the Final Vote. The mad dash as to who will complete the roster. An AL pitcher and a NL position player will make the team, thanks to the voting masses.
The AL pitcher will be between Jonathan Broxton, Yu Darvish, Ernesto Frieri, Jason Hammel and Jake Peavy, while the NL position player will be involving Michael Bourn, David Freese, Bryce Harper, Aaron Hill and Chipper Jones. Already, one player on the ballot has said to be
voting
for another.
Now that you know the teams, feel free to complain on it below.