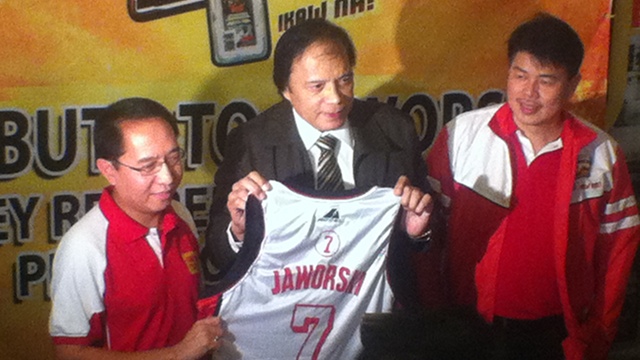 Credit to Natashya Gutierrez of Rappler
On July 8, there will be a special ceremony to take place at the SMART-Araneta Coliseum. The semifinals of the PBA Govenor's Cup will be ongoing, but at 6pm, all eyes will be on that court, as Barangay Ginebra will honor the Living Legend, Robert Jaworski, Sr. with the retirement of his iconic number 7.
Jersey retirement is arguably the highest honor that a team can bestow on a player. It means they value you so much that they will never have someone wear your number ever again.
According to Ginebra San Miguel, Inc. President Bernard Marquez, this is the highest honor that they as a franchise can bestow on the Big J, Ginebra and Jaworski are synonymous, whose personifies the never-say-die spirit that is now part and parcel of the company itself.
The former Senator is honored to be bestowed such an achievement, that according to him,
nakakataba ng puso na siya ay iniidolo ng mga batang manlalaro ng PBA
. But he noted that even with the jersey retirement, he is not ready to leave the sport that he loves very much. He jokingly remarked that he is getting ready for the 2016 Olympics in Rio de Janeiro.
Being the former politician, he used the press conference to stress and remind us of the need for sports as an integral part of national development, as sports provide avenues for heroes and idols to emerge, so that future generations will look up to them. He chose not to take the opportunity during the press conference to announce his plans for the upcoming 2013 elections.
As a former Olympian and national team player and coach, he is most honored with the privilege of wearing the nation's colors and playing for flag and country. He emphasized the notion that the more important thing in competition is on how you played and your decorum during play instead of how it ended up, reminding our Olympians competing in London to enjoy the journey and the country will always be behind them. He specifically spoke of
believing in yourself and going there with a positive attitude, because you are a representation of where you come from.
Yours truly with The Living Legend
Update
: According to the trusty Fidel Mangonon a.k.a. @thepbaologist, the matchup on July 8 will be involving the winner of the playoff involving Powerade, Barako Bull and Meralco against Rain or Shine in the first game, while Barangay Ginebra will be facing Petron in the nightcap.