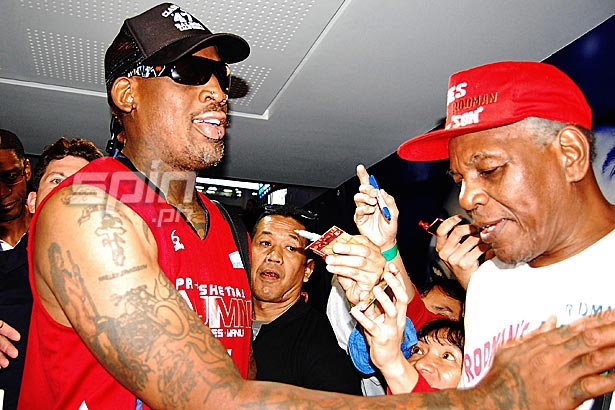 On Wednesday night, fans in the Philippines were treated to an exhibition involving legends from the Motherland and a team assembled by Charles Smith, who serves as the head of the Professional Basketball Alumni Association, but the true highlight lies with a simple acknowledgment.
During a TV timeout with 16 seconds left in the exhibition match, The Worm got his hand onto the public address system, said some words, and pointed his finger to his long-time estranged father, who was watching in the crowd, for the
first time
in his life (h/t to SPIN Philippines).
If you recall his Hall of Fame induction speech, he acknowledged that his father left him at an early age. Philander Rodman had been working with the United States Air Force, who at the time had a military base in Clark Field. In fact, this was quoted from him in his 1996 memoir... (h/t to Kelly Dwyer and Y!'s
Ball Don't Lie
)
"I never really knew my father, Philander Rodman. He was in the Air Force in New Jersey, where I was born, and when I was three we packed up and came back to Dallas where my mother is from. We did this when my father stopped coming home. My father isn't part of my life. I haven't seen him in more than thirty years, so what is there to miss? I just look at it like this: Some man brought me into this world. That doesn't mean I have a father; I don't. I could say, 'This is my father. This is my dad,' but that doesn't sound right to me. I grew up with my mother and two younger sisters, Debra and Kim. There wasn't a male role model in my life until I got to college and started getting my [act] together."
I actually managed to attend the
press conference
about the event, entitled the PLDT All-Star Basketball Challenge, which had taken place on Tuesday afternoon. Being in the Motherland, one of the topics inevitably raised during that conference dealt with Dennis and Philander.
On that moment, Dennis said if his father was present at the game, he would shake his hand.
Naturally, Philander was moved by the gesture, noting that it was the first time that it happened and that he is very proud of him. He now currently owns a burger stand in Angeles City, which is near where Clark AFB used to be and he is currently based. He also has 29 children from 16 mothers.
The actual news bit was done in the local parlance, but you'll get what Philander says here. (h/t Interaksyon)
The final score ended at 112-93 in favor of the visiting squad, with Jason Williams scoring 26 points and issuing 7 dimes. Pippen scored 20 points. Dennis scored the fewest with 4. Yours truly managed to get a glimpse of the game as well.