There are two minor postseason tournaments that are out and about this weekend. The first one is the CBI. The other one is the CIT.
CBI (College Basketball Invitational)
. Being broadcast on
HDNet
(a.k.a Mark Cuban's station of choice), the CBI is the third tier tournament after the NCAA and the NIT. The main difference is that they have a best of three finals matchup.
Featuring 16 teams, including a 14-17 Oregon State squad that won the tourney last year, The CBI starts today until April 2.
The 8 matchups are the winner of Saint Louis vs Indiana State will be facing the winner of Akron vs Green Bay (Group 1), the winner of George Washington vs VCU against the winner of Eastern Kentucky vs Charleston (Group 2), the winner of Oregon State vs Boston University will face off with the winner of Morehead State and Colorado State (Group 3), and finally, the Hofstra-IUPUI winner goes up against Princeton-Duquesne winner. Each small matchup will be on March 16 or 17, with Group winners to be determined on March 22.
Group 1 winner faces Group 2 and Group 3 vs Group 4 matchups will commence on March 24. Finals (as stated earlier) will be on March 29, 31 and April 2 (if necessary). All games will be at campus sites.
Apparently, teams are still not serious with this tourney as schools like Alabama, Arizona, Charlotte, Georgia and Michigan declined invitations to participate.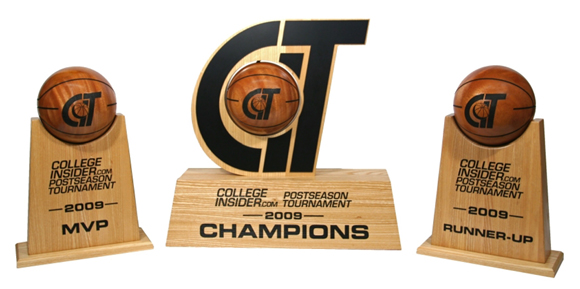 Collegeinsider.com Tournament (CIT)
. This particular tournament does not have a set bracket, just like the old NIT format.
From March 16-18, 16 teams get to determine who goes on to the next round.
The 3/16 matchups are Fairfield vs George Mason, Western Carolina vs Marshall and South Dakota vs Creighton. The 3/17 games are Harvard vs Appalachian State, Middle Tennessee State vs Missouri State, Portland vs Northern Colorado and Pacific vs Loyola Marymount, while the lone game on 3/18 is Southern Mississippi against Louisiana Tech.
If you notice, only Oregon State is from the BCS conferences, the others coming from the mid-majors / one-bid NCAA conferences.