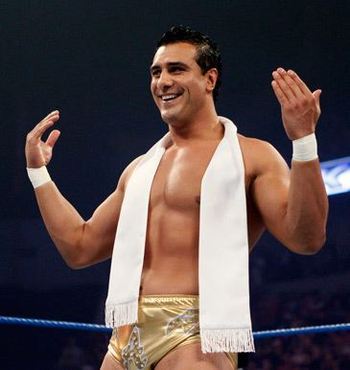 Welcome to the latest edition of the Morning After, the final one this month of January 2011.
I pretty much spent the whole day watching television. Watched a little of the FA Cup before proceeding with the NBA on ABC. Managed to catch a little of the NHL All-Star Game and the start of the Pro Bowl until it was the Royal Rumble. Really have nothing to say, but again, the Royal Rumble is probably my favorite PPV match ever. It even screwed the TNA storyline by having both Kevin (a.k.a. Big Daddy Cool Diesel) Nash and Booker T appear on it.
Hereforth are the links:
The Pacers fired
Jim O'Brien
. (c/o Indianapolis Star)
Not only does Chris Bosh not want to hustle, but also he is pretty much a
fake tough guy
.
Kevin Garnett
is merely staying true to who he is. (c/o Beantown Banter)
Duke
was not waylaid like this since Earl Boykins made his name at Eastern Michigan. (c/o New York Times)
Obviously, Basketball Wives would be chomping at the bit to secure
her
. (c/o Washington Post)
Jon Kitna
thinks if you engage in laptop porn, you are not manly. (c/o Deadspin)
NFC
> AFC. Ho-hum. (c/o San Francisco Chronicle)
There might be more action
outside the field
than inside the field next week. (c/o Arizona Central)
Bill Maher
credits socialism for NFL success. (c/o Huffington Post)
Lindstrom
> Staal. More entertainment value during a game context than the Pro Bowl. (c/o Detroit Free Press)
There is a new show called Chicago Code, maybe they can figure
this case
out. (c/o Chicago Tribune)
This
happened now, what more come 2022. (c/o Sports Illustrated)
Fulham
annihlates Tottenham (c/o Scottish Daily Record)
He definitely had a
dream
. I don't know if that will prosper (c/o New York Post)
Being the writer was from Chicago, it was understood that they are still trying to figure out
why the Cubs suck
. (c/o NPR)
He ain't no
gamer
, he's a player. (c/o Kotaku)
Coming to the Victory Formation: the GITC homage to the X Games. Presumably,
this
will be included. (c/o Grind TV)
Colin Cowherd
bringing his comedic talents to CBS. (c/o Entertainment Weekly)
Aussie Kim
takes home a Slam. (c/o Winnipeg Free Press), to the consternation of a certain
person
. (Busted Racquet)
No Nadal, No Federer,
Novak
! (c/o Kansas City Star)
Even though they lost, i like their entrance theme.